St. Finn Barr 2016 Christmas Concert
Greetings St. Finn Barr Families! It's the most Wonderful & Crazy time of the year! As we all know, December tends to be one of the most hectic months for families. With all the parties, shopping, CHRISTMAS CONCERTS and so on, we end up doing a lot of running around. The theme of this year's Christmas Concert is simply "PEACE". I found a bible verse that I thought would perfectly sum up what we all need to remember during the entire year and especially now:
Isaiah 9:6 For to us a child is born, to us a son is given; and the government shall be upon his shoulder, and his name shall be called Wonderful Counselor, Mighty God, Everlasting Father, Prince of Peace.
Please mark your calendars and join us for a memorable night of PEACE. Tis' the season to watch our children sing their message of peace and love to our St. Finn Barr family!
Our annual Christmas Concert is on Thursday, December 15th at the Riordan High School auditorium. Doors will open at 5:15 PM. Call time for students is 5:30 PM. Students will be sitting with their classes. For family and friends first come first serve with seating. The show will start at 6:00 PM on the dot.
We will be charging a $5 entry fee per adult with free entry for SFB students and children 3 years and under. We will be taking cash or checks at the door. The entry fee will help pay for the theater, choreographer and pianist but will not cover all the costs. If you are interested in donating you will receive special recognition in the Christmas Concert program.
Please contact me (Chrisoula Novo) novosf@aol.com if you would like to donate. Any donations to offset the costs of the Christmas Concert will greatly be appreciated.
Please Remember your child(ren) should wear their Sunday best!
To avoid lines the evening of the Christmas Concert you can pre-pay for your ticket(s)! Fill out the information below and send it to Elizabeth Ristaino c/o Anna 8th Grade. The tickets will be sent home with your child(ren).
Deadline to purchase pre-paid tickets is Wednesday, December 7th
______________________________________________
Student's Name:_________________________________ Grade:_________________________________________
Email:_________________________________________
Tickets are $5 each
[SFB students and children 3 years and under are free]
Any questions about the tickets please feel free to contact
Elizabeth Ristaino - treasurer@stfinnbarr.org
______________________________________________
Dress Rehearsal
Please remember Thursday, December 8th from 2:45PM-3:45PM we will hold our "Dress Rehearsal" for the Christmas Concert at Archbishop Riordan High School.
The entire student body (with signed permission slips and chaperones) will walk together from St. Finn Barr at 2:15PM and will return to school between 4PM and 4:15PM for dismissal procedures to begin.
Any students without signed permission slips or who are not able to attend rehearsal will remain supervised on campus and can be picked up between 2:15PM and 3PM.
Permission slips will be going out soon.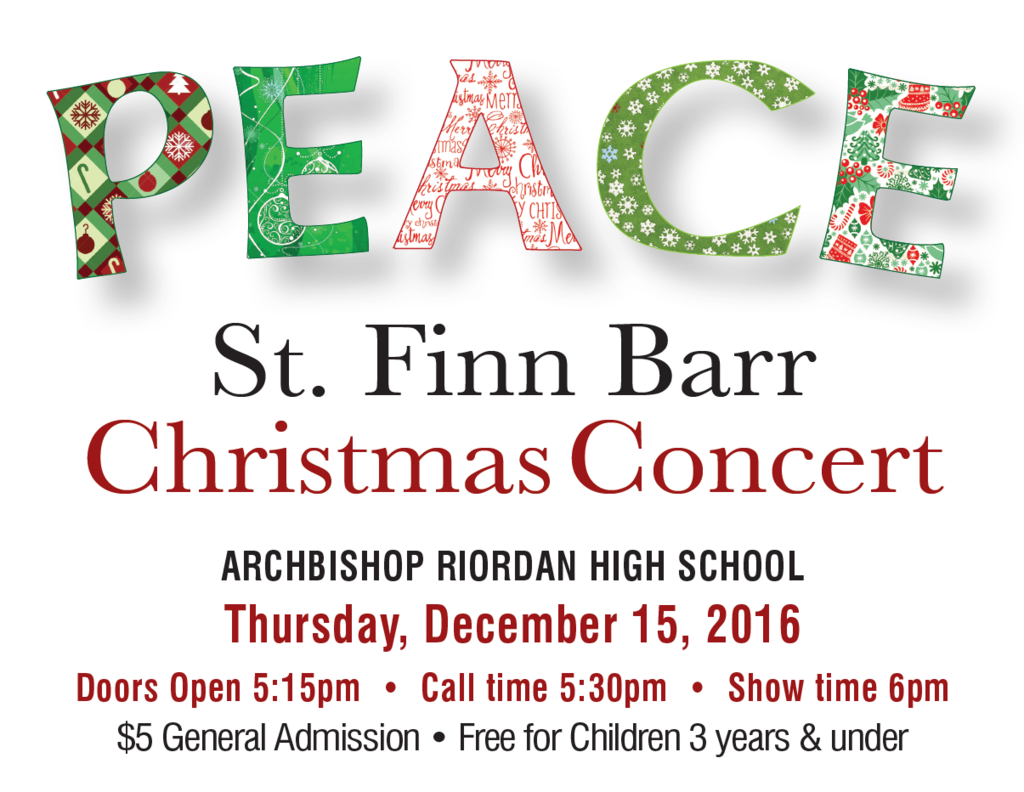 *TICKET ORDER FORM ATTACHED BELOW*
Attached Files