Dear Families,
With the continued support of the school administration, we continue with our service learning projects in how the students can help our neighborhood community. The students will reflect on community needs, ways they can help and internalize how their efforts have helped.
This year we have partnered with St. Anthony's Foundation. They give out over 50 travel "grab-n-go" kits a day. They never have enough to keep in stock and have expressed the need in this area.
Please see attached flyer for information on what is needed for the "Blessing Bags" as I would like to call them. We will have the students write/draw a small message, bring a smile, and insert them in the Blessing Bags.
My hope is to try to turn in 500+ bags to St. Anthony's before Easter Break. But, they will be happy with anything we can bring them. Donations can begin now up until Friday, March 18. Thereafter, the students will spend an afternoon putting the kits together and deliver to St. Anthony's Foundation before we break for Easter.
I've also attached a donation letter if anyone knows of a local business/es that would be able to donate goods to our Service Learning Project. Parent hours will be given towards this.
Any questions, I can be reached by email at ristainoer@yahoo.com.
Thank you for supporting St. Finn Barr School.
Elizabeth F. Ristaino
Service Learning Coordinator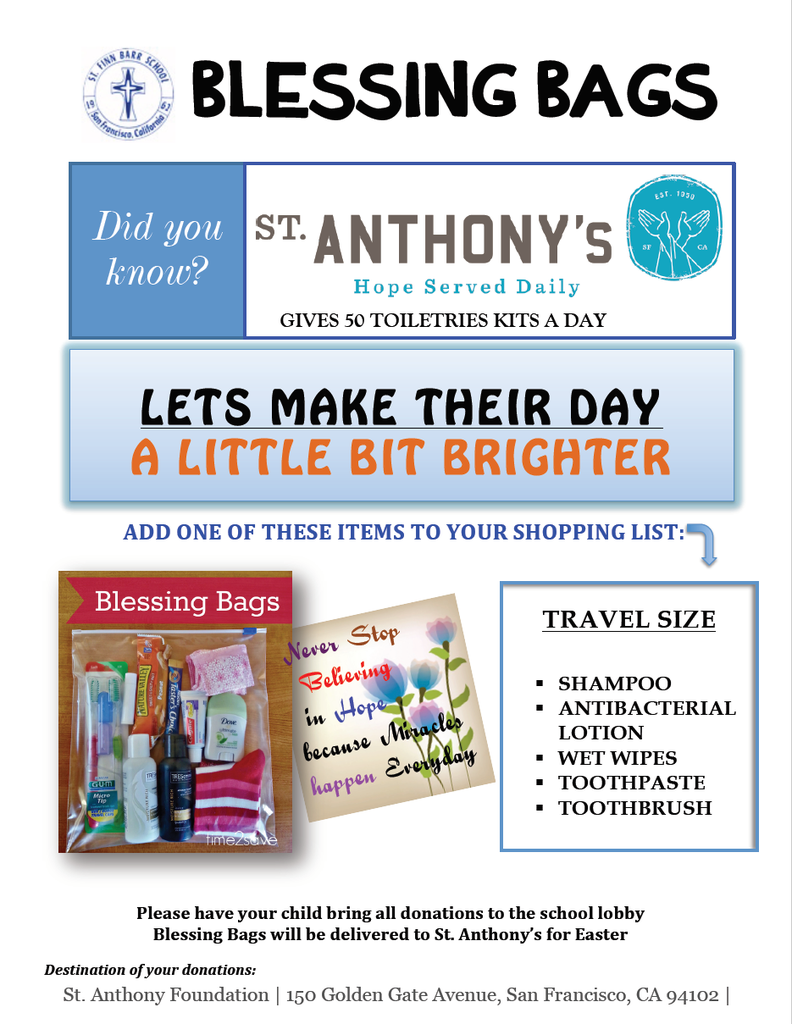 Attached Files